mcePharma great partner for premix solutions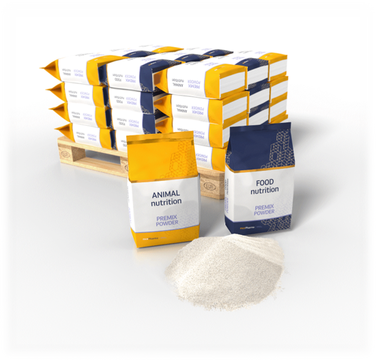 We offer production food and feed premixes as powder blends of desired functional ingredients such as vitamins, minerals, amino acids, nucleotides, nutraceuticals, fibres, herbs, diluents and more in one single, efficient and homogenous premix.
We offer food/feed premixes for fortification of human and animal nutrition as customized or ready-made formulation.

Food premixes:
Premixes for fortification of food products like food supplements, clinical nutrition, sport drinks, sport proteins, infant nutrition or nutrition.
Ready-made premixes for production of science based, innovative, user friendly  food supplements in orally soluble tablets and powders. 
Animal and pet premixes:
Functional premixes for wet pet food - based on hydrocolloids which deliver superior functionality as a gelation, emulsification, suspension, stabilization and thickening.
Fully customized premixes of vitamins/minerals for dry pet food, health care snacks, pet treats and animals
Ready-made premixes for production of pet supplements for dogs/cats/horses in form of tablets and powders
Certification:
EN ISO 22000,

HACCP,

Registration of the feed production.
The main benefits of using our premixes:
convenient in usage as in single ingredient or multiple ingredients,
saving costs,
simplifying of production process.
Define your request and idea of food or animal nutrition products to offer you customized premix solution.  
Detail information about premixes at the link below:
https://www.mcepharma.com/catalog/
Don´t hesitate and contact us: sales@mcepharma.com